Operation mode and processing function of deep hole gun drill
---
Gun drill is generally welded together by drill handle, drill pipe and drill bit. There is a through hole in the center of the gun drill, which is the channel for the cutting fluid to enter the cutting area. The drill bit is the key part of the whole gun drill. Data is cemented carbide
Put the gun drill into the center of the pilot hole: the gun drill should not rotate outside the hole. The drill bit is inserted into the pilot hole through feeding together with the cutting fluid. Start drilling: Start cutting rotation and feed. Finish drilling: return quickly and stop at the pilot hole position. The gun drill manufacturer stops cutting rotation and coolant supply. Pull out the gun drill from the workpiece. The grinding viewpoint of the gun drill has a great influence on the quality of the inner hole. However, in some special situations, the change of the length of the inner and outer cutting edges of the gun drill will play a leading role in the quality of the inner hole.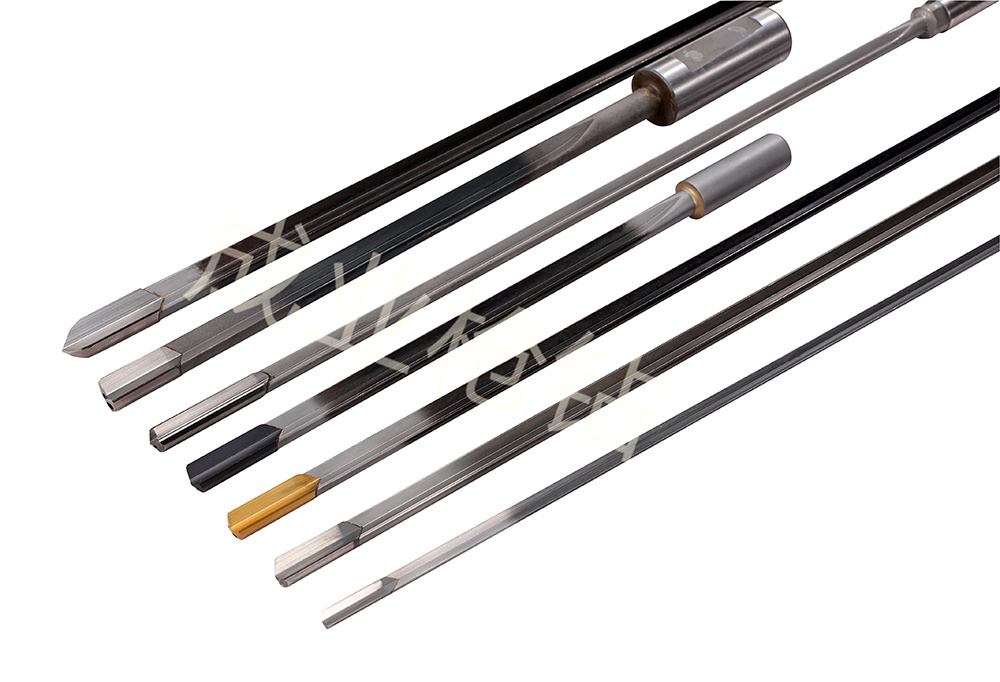 Processing effect: the roughness of the inner hole is very poor, and the scratch is severe; The scale consistency is very poor, the inner hole is strong with bamboo knots, and the scale range is about 0.1mm; When the gun drill is processed, the same parameters such as rotation speed, tool feed and oil pressure are selected, but the processing effect is greatly improved. Processing effect: inner hole roughness: Ra0.4~Ra0.8, with good scale consistency, and the scale range is about plus or minus 0.02mm; The straightness of the inner hole is very good. Using long outer edge gun drill will significantly improve the processing quality of inner hole. It can be considered for applications with high requirements for roughness and scale accuracy.
Gun drill is generally welded together by drill handle, drill pipe and drill bit. There is a through hole in the center of the gun drill, which is the channel for the cutting fluid to enter the cutting area. The drill bit is the key part of the whole gun drill. The material is cemented carbide. Its common combination structure ensures that it can also play the role of self-guiding in the end cutting work, and can get a high-precision deep hole through one penetration. The data selection, heat treatment and rolling process requirements of drill pipe are very strict.